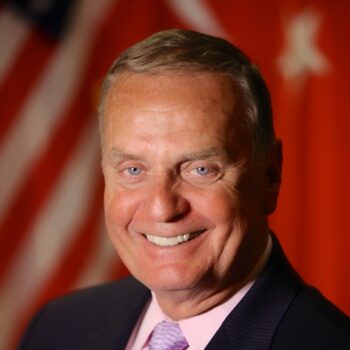 General James L. Jones, U.S. Marine Corps (Retired)
President, Chairman, & Founder
About General James L. Jones, U.S. Marine Corps (Retired)
General James L. Jones, USMC (Ret.) leads a team of consultants in foreign policy, strategic planning, national security and military strategy, harnessing more than four decades of experience spanning military operations, energy security, defense and global leadership.
General Jones has served as Commandant of the Marine Corps (1999-2003), at NATO as Supreme Commander Allied Forces Europe (2003-2007), in Germany as Commander U.S. European and African Command (2003-2007), as Special Envoy for Middle East Regional Security (2007-2008), and as National Security Advisor to the President of the United States (2009-2010). General Jones has become an advocate for a more inclusive role for the private sector in national security and foreign policy issues, encourages more interagency cooperation, and is passionate about maintaining the global leadership of the United States in this century of great challenge.
General Jones has spent his life serving and protecting America and American ideals. He is sought after for his wisdom, guidance and political endorsement. As the former commander of U.S. European Command and Supreme Allied Commander Europe, he led all military operations for the North Atlantic Treaty Organization and later, as National Security Advisor, he brought clear vision and steady leadership to America's mission in Iraq, the war in Afghanistan, and the country's interests around the world.
General Jones graduated from the Georgetown University School of Foreign Service and was commissioned into the Marine Corps in January 1967. Upon retirement in February 2007, the Vietnam combat veteran became the president and CEO of the U.S. Chamber of Commerce's Institute for 21st Century Energy and, in 2008, served as the State Department's Special Envoy for Middle East Regional Security. From 2009 until 2010, he served as President Obama's National Security Advisor at the White House.
Expertise
Foreign Policy
Former Commandant of the Marine Corps
Former NATO Supreme Commander Allied Forced Europe
Former Special Envoy for Middle East Regional Security
Former National Security Advisor to the President of the United States